Reading Time:
5
minutes
New Zealand, a paradise for travellers, is renowned for its breathtaking landscapes, thrilling adventure sports, and rich Maori culture. But have you ever wondered about the untapped experiences that lie in the heart of its local life? Nestled within the beautiful landscapes near Christchurch, a vibrant pub culture thrives, offering you a taste of the country's authentic and friendly atmosphere. Here, the country pubs are not just about great food and drinks; they're about history, community, and the good old Kiwi hospitality.
As you embark on this remarkable journey, immersing yourself in the world of unique brews, hearty meals, and cheerful conversations, consider making Christchurch your base camp. Located centrally to all these country pubs, Hotel 115 stands as an ideal choice for your stay. It's not just the perfect launchpad to start your pub-hopping adventure, but also offers you the comfort and amenities you need after a day of exploring.
So, are you ready to dive deep into the local culture and explore the best country pubs near Christchurch? Let's set the ball rolling!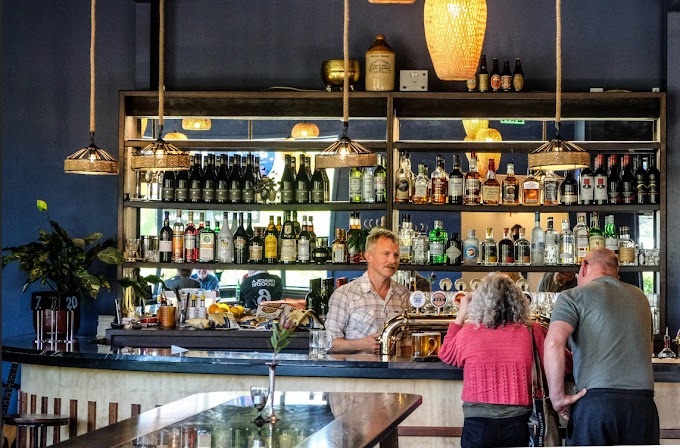 Location: 4099 Christchurch Akaroa Rd, Little River 7591, New Zealand.
Travel time from Christchurch: Approximately 45 minutes by car.
Our first stop on this countryside pub exploration is the delightful Little River Inn. Tucked away in the quaint town of Little River, this pub is a perfect fusion of history and charm. With its roots tracing back to the 19th century, the Little River Inn carries a compelling aura of tradition. But don't let its age fool you; this pub offers a contemporary experience to its patrons while preserving its historical essence.
Inside, you'll be greeted by a warm, cosy atmosphere that mirrors the welcoming nature of the locals. The Little River Inn prides itself on its wide array of local brews – a testament to the thriving beer culture of New Zealand. Every sip here tells a story, bringing you closer to understanding the depth and flavour profiles of Kiwi brews.
So whether you're a craft beer aficionado or a casual drinker, the Little River Inn guarantees a unique experience that you won't forget in a hurry. And all this just a short drive from Christchurch!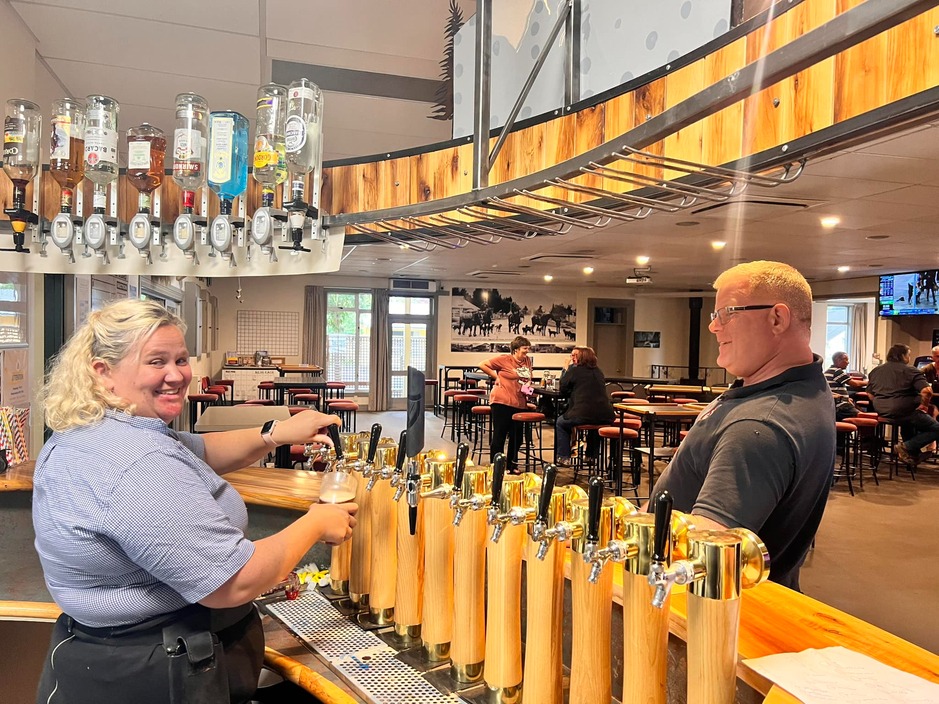 Location: 160 High Street, Oxford 7430, New Zealand.
Travel time from Christchurch: Approximately 50 minutes by car.
Our final destination is The Oxford Workingmen's Club, a place where the night comes alive with the sound of music and merry chatter. Located in the heart of Oxford, this club is just a quick, 50-minute drive from Christchurch.
Best known for its live music nights, The Oxford Workingmen's Club offers a vibrant atmosphere where travellers can let their hair down. On these nights, the club buzzes with energy, as talented local artists take the stage to entertain patrons with a mix of popular hits and original compositions.
Of course, what's a fun night without some hearty pub food? The Oxford Workingmen's Club delivers on this front too, serving a selection of traditional pub fare that perfectly complements the lively ambiance. So, sit back, enjoy a pint, and let the rhythm of the music and the warmth of Kiwi hospitality complete your exploration of the best country pubs near Christchurch.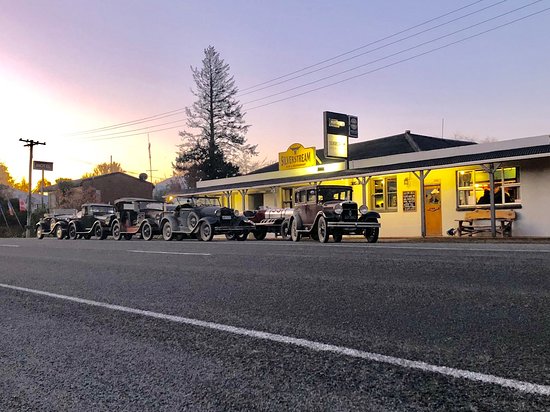 Location: 762 State Highway 8, Kimbell, South Canterbury.
Travel time from Christchurch: Approximately 3 hours by car.
Our next pub journey takes us to the South Canterbury region, where we find the iconic Silverstream Hotel. Located in the heart of the Mackenzie district in Kimbell, this classic South Island pub exudes an irresistible charm that has stood the test of time. The new owners, Lockie and Caroline, have breathed new life into this historic establishment, making it a favourite among locals and a must-visit for travellers alike.
The Silverstream Hotel offers something for everyone – from live music and regular events to a pool table, an outdoor fire pit, a children's play area, and even a petanque court. But the star of the show remains the hearty meals and refreshing drinks that the pub offers. Don't leave without digging into their famous dishes, complemented by a well-earned drink!

Location: 1651 Bealey Road, Hororata 7544, New Zealand.
Travel time from Christchurch: Approximately 1 hour by car.
Next on our journey is the Hororata Tavern, a standout among the country pubs near Christchurch for its deep-seated community involvement and friendly service. Just an hour's drive from Christchurch, this charming tavern embodies the essence of a genuine Kiwi country pub.
The Hororata Tavern is well-known for fostering a warm sense of camaraderie among its patrons, making it an ideal place to mingle with locals and fellow travellers alike. The staff's warm smiles and friendly chatter contribute to the overall welcoming environment, making every visitor feel like a part of their extended family.
Moreover, the tavern plays a pivotal role in local events and celebrations, often serving as the communal hub of Hororata. This active participation in community life lends it a distinctive character, transforming each visit into a unique cultural experience. In a nutshell, Hororata Tavern encapsulates the spirit of New Zealand's country pub culture at its best.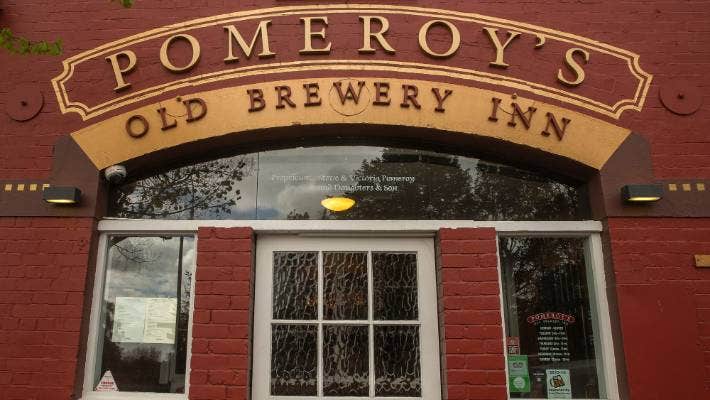 Location: 292 Kilmore Street, Christchurch Central City, Christchurch, New Zealand.
Travel time from Hotel 115: Approximately 5 minutes by car.
Finally, we return to Christchurch's city centre, where the family-owned Pomeroy's Old Brewery Inn has made a name for itself. This pub is a favourite among Christchurch locals, who love its quintessential Old English aesthetic and cosy vibe. The food menu heavily features delicious burgers and classic pub grub like Seafood Chowder and Fish and Chips.
For beer lovers, Pomeroy's offers a tap list that showcases a range of craft labels from around Aotearoa. Take this opportunity to branch out from your regular brew and try something different at this beloved Christchurch pub.
Immerse in the Charm of Christchurch's Countryside Pubs
As we conclude this pub-hopping journey around Christchurch, we encourage all travellers to dive headfirst into the city's vibrant local culture. Each country pub near Christchurch has its own unique character, its own story to tell, and is a testament to the city's warm, friendly, and community-oriented spirit.
In these pubs, you won't just find a place to eat and drink; you'll find a piece of New Zealand's soul, shared over lively conversations, laughter, and an abundance of goodwill. From the historic charm of the Silverstream Hotel to the breathtaking views at The Pier Hotel, and the comforting familiarity of Pomeroy's Old Brewery Inn, there's a wealth of experiences waiting to be discovered.
Make your stay comfortable and convenient at Hotel 115, the perfect base from which to embark on these adventures. Located centrally, Hotel 115 provides easy access to these cultural gems and much more, ensuring that you're never far away from the heart of the action.
So, don't wait! Start planning your New Zealand adventure now, and prepare to experience the best country pubs near Christchurch first-hand. Pack your bags, bring your spirit of adventure, and get ready to create memories that will last a lifetime. The road awaits, and so does your pint!
June 14, 2023 by Your friends at Hotel 115