Reading Time:
15
minutes
Updated for 2019
"A very affordable experience and the packed powder snow didn't disappoint. Great facilities as well as friendly staff all around. Friendly visitors too… had a great feel of community spirit. The best I've experienced 👍🏼" 
Situated roughly 1 hour and 45 minutes inland from Christchurch, Mount Hutt is a popular summit that attracts plenty of thrill-seekers who come to make the most of the entertaining outdoor attractions on offer.
"Mount Hutt (Māori: Opuke) rises to the west of the Canterbury Plains in the South Island of New Zealand, above the braided upper reaches of the Rakaia River, and 80 kilometres west of Christchurch. Its summit is 2190 metres above sea level." 
As New Zealand's largest ski field, the experienced operators of Mount Hutt are renowned for continually improving the infrastructure and delivering better experiences every year.
However, what really sets Mount Hutt apart from our South Island ski fields is the local atmosphere that helps visitors to feel comfortable and welcome here.
"There's a strong sense of community around here, they really take ownership of the mountain." 
This article is a comprehensive guide that covers everything you need to know about Mount Hutt. Here's what you'll find in the chapters below:
What's new in 2019?

Mountain stats – a look at the numbers

The terrain and trails at Mount Hutt

Things to do at Mount Hutt

What can children do here?

Facilities at Mount Hutt

But what about food?

Weather at Mount Hutt

Commitment to sustainability

Transport options – how to get there

Buying a ski (or snowboard) pass

Ski season dates

Where to stay

More information on nearby attractions
What's new in 2019?
"Nothing has changed when it comes to the awesome customer service and big mountain ski terrain at Mt Hutt… behind the scenes there's a lot happening ahead of the 2019 ski season" 
With over $2.5m spent on improvements, Mount Hutt is in better shape now than ever before. Some of the key updates included:
The creation of a new 'fun zone' area from the top of Quad down to the base area, adding an 'all-ages' park for beginners to learn on.

A covered tunnel in the fun zone.

The latest and most advanced groomer available that is

equipped with a Tier 5 engine and real time snow depth monitoring

.

New state-of-the-art cleaning equipment in Sky High Café that turns over cutlery and crockery at a faster rate – resulting in quicker service for customers.

Upgraded rental equipment for skiers that are hiring gear on the mountain.

A 44-seater 4×4 shuttle bus to transport people from the lower carparks to the main ski area.
There are also plans to make a new advanced trail to the left of the reservoir and move a couple of other runs around to extend the length of the steep, groomed terrain on that side of the basin.
With so many new developments and renewed investment in the facilities, it is clear that the owners of Mt Hutt, NZ Ski are committed to continually improving the slopes and maintaining its status as a world class ski resort.
Mountain stats – a look at the numbers
With New Zealand's highest chairlift and an extensive trail network that covers over 365 hectares of skiable area, Mount Hutt offers something for everyone. 
Here's a quick overview of the key stats:
Largest vertical drop is 683m.

Average snowfall of 4m per annum (excluding snowmaking).

Groomed terrain consists of 11% beginner, 37% intermediate, 27% advanced intermediate, 20% advanced and 5% park.

Snowmaking capabilities cover 27 hectares of the mountain.

35 minutes drive from Methven and 55 minutes drive from Ashburton.

Open from 9am until 4pm daily.

First tracks are available from 8am – 9am during weekends.
"The first hour on untracked snow with only a few like-minded enthusiasts is spectacular!" 
Awards
Thanks to the stunning natural conditions, excellent staff and continued improvements, Mount Hutt has been voted New Zealand's best ski resort at the World Ski Awards four years in a row (2015, 2016, 2017 and 2018).
Lifts
To help you get up the mountain, the field is equipped with a six-seater detachable chair, one quad chair, a triple chair and two learner conveyors (also known as the 'magic carpet').
The terrain and trails at Mount Hutt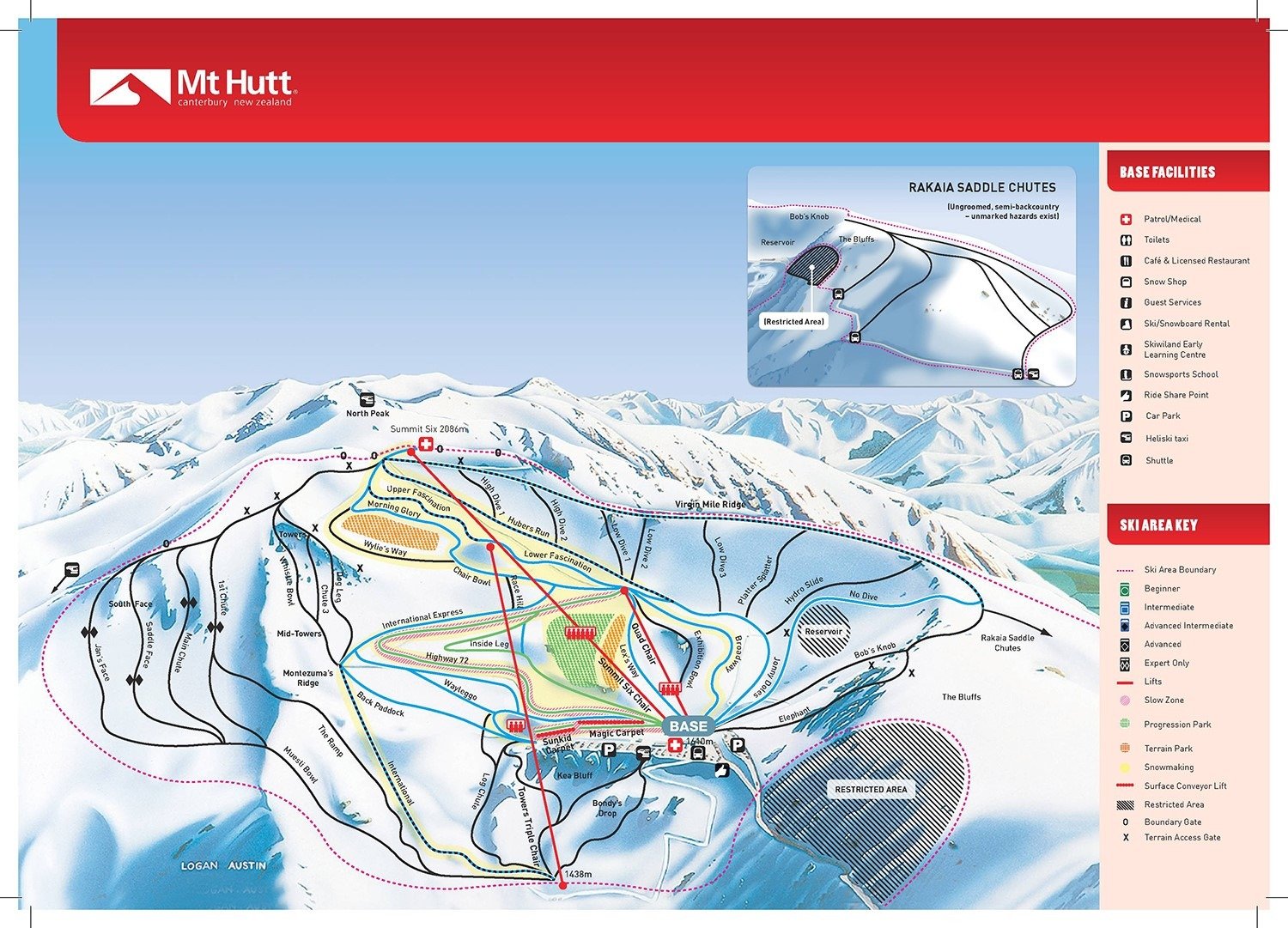 The ski field was given a wide range of improvements in 2008, which included a new mini terrain park for beginners. 
In its present state, Mount Hutt includes 4 freestyle parks – with the new mini park featuring a 10,000m2 skill progression path that helps novices transition into the UP&GO Terrain Park. For skiers, there are a range of kickers, tabletops, rails and an FIS specification halfpipe.
The slopes include a wide range of trails that span from entry-level green and blue courses around the center to double black diamond runs on the South Face for advanced thrill seekers. With an average snowfall of 4m each year, there is almost always enough snow to cover the slopes during winter.
However, at times, some trails are closed down for safety purposes. These warnings are displayed on the relevant signs throughout the ski area. It is highly recommended that you obey these warnings, as they are in place for a reason.
If you need assistance whilst on the slopes, look out for the ski patrollers who are generally stationed around the unloading areas of lifts.
Backcountry skiing
Alongside the main ski area, there are also a wide range of ski opportunities in the backcountry. To enter the backcountry area, head past the Rakaia Saddle Chutes and avoid the restricted area. 
When skiing around the backcountry, it's important to be aware of hazards, carry the necessary safety equipment and look out for one-another. As this area is not patrolled, it does take longer for search and rescue to arrive, and there is no avalanche control.
For more information about ski touring and backcountry safety precautions, have a look at this page.
Safety tips and information
Mountain sports carry a level of inherent danger due to the exposed nature of such activities. Whilst they can be extremely entertaining, all skiers and snowboarders are expected to follow The Snow Responsibility Code to prevent unnecessary danger.
Know your limits
Ride to your ability, control your speed.

Be aware of the conditions.

Take a lesson.
Find your space
Protect yourself
Obey all signs and closures.

If you're tired, take a rest.

Wear a helmet.
In addition to these guidelines, it's also important to:
Look above before entering a hill.

Remember that people below you have the right of way.

Decide carefully before taking a jump and use spotters for blind jumps.

Keep your equipment safe and regularly serviced.

If you see an accident, report it to Ski Patrol and don't leave the area until it is safe to do so.

Respect other skiers to earn it back.

Slow down in a 'slow zone'.

Take the right lift to reach the correct terrain.
Things to do at Mount Hutt

Aside from skiing and snowboarding on the slopes, there are plenty of other attractions on offer here. If you want to get away from the hustle and mountain bustle, why not hire a helicopter to reach a wide range of undisturbed snow for fantastic heli-skiing.
Alternatively, watching the pros might be up your alley? Check out the international race arena where some of the world's best skiers train for their upcoming events.
If you're not into skiing, but still love the stunning natural beauty of the area, you may want to take a chairlift up to summit six and walk to North Peak for panoramic views over Central Canterbury.
Rather than embracing the cold, why not jump in a steamy hot tub on the mountain? Or perhaps a bit of family fun is what you're looking for? Toboggans are available for kids of all ages to play in the snow.
What can children do at Mount Hutt

Tobogganing is just the beginning when it comes to children's activities. If you're planning to spend the day with your kids, you will be thrilled to know that children aged 10 and under receive free lift passes (and other goodies) with a paying adult. More information about the Kids 4 Free programme can be found here.
But you don't need to spend all day looking after the young ones – especially if you are planning on hitting the more advanced terrain. Skiwiland is a fully licensed early learning centre that caters to children aged between 3 months and 5 years old. Alongside nutritional food and attentive educators, students are encouraged to play in the snow and take ski/snowboarding lessons.
The Kea Club is another initiative (for kids and teenagers aged 5-17 years) that includes rentals, lift passes, lessons and lunch.
Facilities at Mount Hutt

Mount Hutt is a comprehensive ski resort, equipped with everything you need to have a great time. They offer a range of facilities to make your visit more convenient without worrying about the small details.
The Snow Shop
The Snow Shop provides all the ski essentials to enhance your experience. Gear is available at affordable prices and a range of popular brands are on offer here. Aside from ski gear, you can buy souvenirs like mugs, stickers, key rings, t-shirts and more. The mascots of Mt Hutt – Spike and Shred, are also available as soft toys.
The shop allows visitors to send postcards to friends and family back home, and offers a range of other consumables for your mountain needs. Aside from snacks like sweets and chocolates, the Snow Shop is equipped with painkillers, plasters and other essential medical gear.
Storage
If you are bringing your own equipment, you'll need a safe storage area to retire it during the day. The storage area is located beside the rental department.
You can hire a basket to store your belongings in a supervised area. On the other hand, if you have rented equipment from Mt Hutt, then you can store it here overnight to keep it safe.
Car parking
The ski area is supported by over 850 car parking spaces. As soon as you arrive at Mt Hutt, the team will help you to find a convenient parking space. Moreover, the parking spaces are quite near to the base area facilities so you don't have to walk for very long to reach them.
In rare situations, the car parks can be full. When this happens, the mountain team will direct you the overflow car parks. From here, you can take the free car park shuttle service to reach the base. 
If you are facing any difficulty, you are welcomed to consult with staff on-hand. They will provide you with relevant information and instructions to quickly find your way to the snow.
But what about food?
Mount Hutt features two dining options – both located in the main base building. The Sky High Café and Huber's Hut Restaurant cater to different types of foodies and tastes.
The Sky High Café
Located on the main floor of the Mt Hutt Base Building, this establishment is renowned for its fast and easy meals. It is a great way to take a break from the outdoors.
Their menu features mountain favourites such as pizza, burgers, sushi, salads, sandwiches and special mountain meals. They even have an espresso bar to get your caffeine fix.
It is also quite convenient if you wish to satisfy a sudden hunger pang before returning to the slopes.
The Huber's Hut Restaurant
For a fine dining experience, the Huber's Hut on the deck of the resort is the perfect option. They offer a fantastic menu and delicious breakfast options to set you up for an entertaining day in the snow. 
Here, you can relax and enjoy the stunning views whilst eating great food. The restaurant is known for its hot baguettes, homemade soups, pasta and the gourmet Willi burger.
After a long day in the ski area, you can head back to the restaurant and relax with some espresso coffee, hot chocolate or something a bit stronger…
Weather at Mount Hutt
The Mount Hutt Snow Report is published early in the morning each day. This report is quite accurate at the time it is published. However, mountain weather can change very quickly so remember to stay updated with the latest conditions and be prepared for any unpredictable situation.
Given that it is a mountain area, snow can often reach dangerous levels. For this reason, the ski patrol keeps a close eye on the snow conditions. If anything is out of the ordinary, they will inform visitors accordingly.
In the case of an emergency, the ski patrol is equipped with search and rescue capabilities. If you enter the backcountry, you need to inform the ski patrol so they can look for you if things go wrong.
Ice can form on the roads, which has been the result of a number of incidents in the past. If you're planning to drive up the mountain, remember to bring chains and don't go beyond your capabilities.
Here are a few snow reports to keep an eye on:
Commitment to sustainability
In such a changing and vulnerable environment, it is critical that we stay mindful of our actions and the effects they have on the planet. The good news is that NZ Ski (the owners of Mount Hutt, The Remarkables and Coronet Peak) are very responsible when it comes to conservation and running a sustainable operation.
"Mt Hutt is committed to caring for our planet and ensuring snow for future generations by implementing excellent environmental management practices."
With an impressive list of activities, it is clear that NZ Ski puts their money where their mouth is when it comes to sustainability. 
Here are some of the commitments they undertake on the mountain to look after the environment
On the mountain, they have taken active measures to reduce waste by:
Removing single-use plastic sauce portions and replacing them with refillable bottles.

Encouraging the use of ceramics in both dining areas.

Providing compostable paper coffee and soup cups.

Offering compostable single-serve 'grab and go' cardboard holders.

Setting up recycling stations across food and beverage service outlets, and setting up recycling at the back of house.
Reducing energy consumption at altitude not only saves money, but it also prevents unnecessary carbon emissions from entering the atmosphere. By providing bus transport, each vehicle eliminates the need for 50-60 cars to drive up the mountain every day. It also reduces the risk of car crashes due to inexperienced drivers entering snowy alpine conditions.
The new snowmaking equipment is also highly efficient – reducing the energy and transported water consumption significantly.
During the off season, habitat restoration activities such as the following take place:
Weed and pest control.

Hare (rabbit) control.

Wilding pine eradication.

Revegetation through propagation of existing flora.

Wetland plantings and improvement.
Off the mountain
Through membership of The Mountain Collective and Protect Our Winters (POW), NZ Ski plays a role in helping to influence policy makers to keep long-term environmental impact and the top of mind. They are also part of the Tourism Industry Aotearoa's New Zealand Tourism Sustainability Commitment.
Protecting the native Kea
"NZSki is partnering with Kea Conservation Trust, providing a sizeable charitable donation as well as helping raise funds and awareness about this endangered parrot that is native to our alpine environments at The Remarkables and at Mt Hutt."
Not only does this commitment involve donating money to help protect the Kea, but it also includes enriching their alpine habitats, creating local opportunities for volunteers to get involved and educating the surrounding schools about what it takes to protect the Kea's home.
Transport options – how to get there

There are a wide variety of transport choices, depending on where you are staying and where you are planning to visit next.
Travelling from Christchurch
If you're planning to travel around the South Island, a rental car or campervan might be the best option for you. Check out this article for a comprehensive breakdown of the best car rental companies in Christchurch.
However, you might not want to rent a car for a number of reasons. In this instance, there are a handful of bus operators that can provide convenient round-trip passes:
Mt Hutt Ski Bus

– as the official transport supplier to Mt Hutt, this crew operates buses between Christchurch, Methven and Mount Hutt every day. Plan to leave Christchurch at 7am or Methven at 7:45am/9:45am. The return trips leave the ski field at 3pm and 4:15pm daily.

Snowman Shuttles

– starting at $55 return, Snowman Shuttles provides daily transport between Christchurch and Mt Hutt. Departing Christchurch at 7am, they can even collect you from your hotel. This service arrives in Methven at 8:30am and tends to reach the ski field around 9:15am. Return buses leave Mount Hutt at 4pm daily.
If you are planning to fly into Christchurch, you may need to get a bus to the city. With a comprehensive public transport network, Christchurch is easy to navigate. To get into the city center, look for the Purple Line and Route 29 buses. Tickets can be purchased (with cash) from the driver. You can find them at the far end of the international arrivals terminal.
Chain hire
If you're planning to rent a vehicle during your stay, it is strongly recommended that you hire snow chains from the rental provider. Chain hire is available on the mountain. However, it is more catered towards four wheel drives and there are often queues of people waiting for their chains to be fitted.
Rather than wasting time trying to find the right chains on the mountain, why not sort it out beforehand and enjoy more time carving up the slopes?
Buying a ski (or snowboard) pass
If you're planning to visit Mt Hutt for a short period of time, then you might be best to purchase tickets online or at the resort. However, if you are going to be here for an extended length of time, a season pass or other deal might be better suited to your needs.
For a full list of offerings, including seasonal deals, check out the Mt Hutt online store. Lift passes start at $119pp for adults and $59pp for children. Ski and board lessons are available for all ages and skill levels – from beginners to confident skiers.
Thanks to the fact that NZ Ski also owns Coronet Peak and The Remarkables fields in Central Otago, they have a range of special packages and combined season pass deals on offer.
As members of The Mountain Collective, NZ Ski resorts are available to TMC pass holders for special rates.
Mount Hutt is also involved with the IKON Pass, which is a comprehensive ski ticket for die-hard snow fans that includes access to more than 15 other ski resorts around the world.
Ski season dates
Thanks to the extensive snowmaking capabilities and thick base of natural snow cover, Mt Hutt tends to be one of New Zealand's first ski fields to open and last to close each season.
"You've got two-and-a-half more kilometres of new trails, you've got some new snow-making, state-of-the-art grooming has arrived here as well."
Where to stay?
The good thing about skiing at Mt Hutt is that there are plenty of great places to stay within a comfortable driving distance.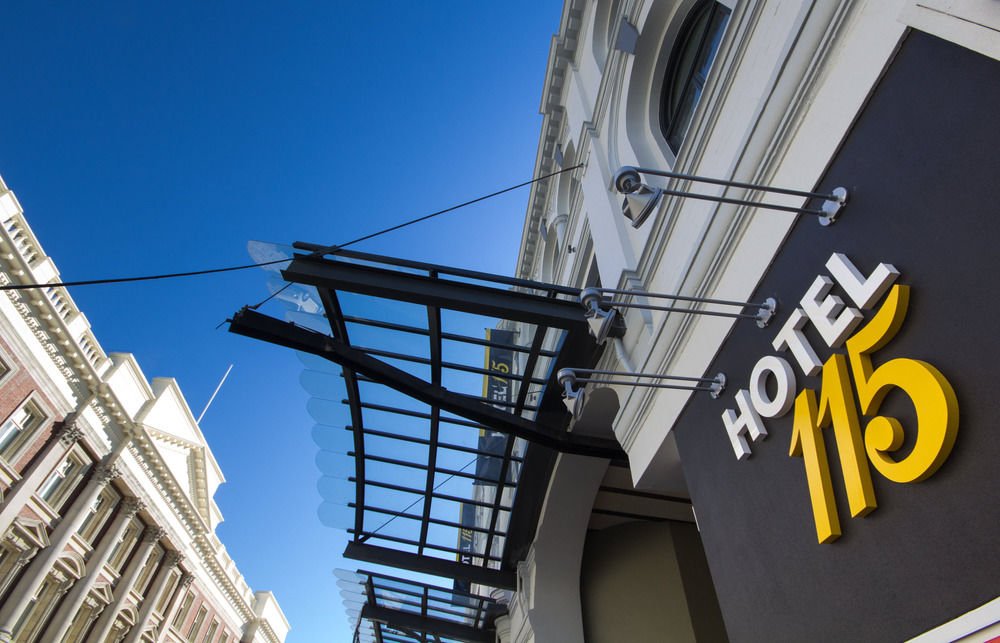 As a boutique accommodation provider in the center of Christchurch, we are committed to ensuring that every guest has a fantastic time. This means providing you with luxurious accommodation, being attentive to your needs and looking after you how we know best.
Mt Hutt Skiing Package
We can build a package to suit your needs when you stay at Hotel 115. Here are some examples:
2 nights and 2 days skiing from $730 in a Superior King Room

3 nights and 2 days skiing from $870 in a Superior King Room

5 nights and 3 days skiing from $1330 in a Superior King Room
These packages include:
Accommodation at Hotel 115.

Continental breakfast every morning.

Ski passes at Mount Hutt.

A luxurious 45 minute massage to help you recover from a busy day on the slopes.

Free car parking on site at the hotel.

Complimentary non-alcoholic minibar.
Quickenberry Guesthouse
"Quickenberry Guesthouse is a small lodge in the foothills of Canterbury. Its location is right in the countryside with views to hills and mountains. Yet it is only one hour to the airport in Christchurch, making it ideal for a first night in New Zealand or the last one." – Source
Just 40 minutes drive from the ski field, this luxurious lodge is a great place to unwind after a fun day on the mountain. They have 4 bedrooms, all of which include ensuites and are nicely furnished with views of the nearby paddocks with grazing sheep or cattle in the surrounding hills.
With a large lounge, open fireplace, small library, and spacious relaxation areas, there's something for every taste here. They have even been awarded with a wide range of accolades for their food and hospitality.
Travelling on a budget?
If you have limited funds and the idea of a boutique lodge is somewhat beyond your current means, perhaps a backpackers might be more suitable?
With a wide range of backpacking lodges in both Christchurch and Methven, you're spoilt for choice.
More information on nearby attractions
We hope that this comprehensive Mt Hutt Ski Guide has been useful in your travel planning. For more information about nearby activities around Canterbury and beyond, check out some of our other guides:
Hotel115 is a boutique hotel located in central Christchurch. We are fully equipped with the latest amenities, luxurious comfort and friendly staff to make your stay a memorable experience. If you are planning to visit Canterbury in the near future, please feel free to contact us directly for the best deals on our rooms.
January 24, 2018 by Your friends at Hotel 115