Reading Time:
3
minutes
During the past few years, Central Christchurch has been a fervent hub of activity and development. It's exciting to be a part of the rebuild – watching as modern architecture blends with the original Victorian buildings to create a unique, contemporary landscape.
The latest addition to our beloved city is the Tūranga public library. This brand new building, which opened on the 12th of October, 2018 is now the main library in Christchurch – supporting 19 other community, digital and mobile libraries.
"The $92.7 million five-story facilities is set to become the most modern public library in the southern hemisphere and the largest in the South Island."
It's been a community effort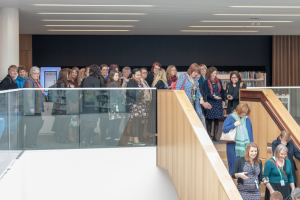 "Bad libraries build collections, good libraries build services, great libraries build communities"
Throughout the process of developing Tūranga, the people of Christchurch were asked for input and consultation as to what they want in their local library. More than 2,400 ideas helped to shape the final plan.
What really brings value to such a building is used. When our public facilities are used and enjoyed, they add to our lives and bring our community together as a result. It is our hope that such an awe-inspiring building will inspire, educate and support both young and old for many years to come.
Features and facilities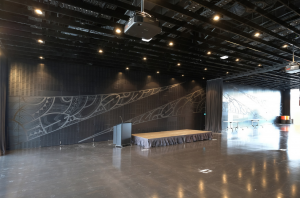 Here are just a few of the many things on offer at Tūranga:
Foundation Café and Espresso Bar

– open from 7am – 8pm weekdays and 8:30am – 5:30pm during the weekend.

46 computers and

computer labs

that include software for use in animation, audio recording, graphic design and much more.

Playstations to keep the young ones entertained!

A

production studio

for getting crafty. Contains sewing machines, embroidery machines, a t-shirt press, craft cutters, vinyl cutters, 3D printers, laser cutters and more.

An

audio/video studio

which is fully equipped with musical instruments, editing gear, green screens and everything required for production.

Discovery wall

– this is an interactive digital touch wall (largest in New Zealand), which lets you swipe your way through a virtual world of photos, videos, and information.

Virtual reality headsets and gaming equipment –

book here

.
An architectural landmark in post-quake Christchurch
"It's often been described as a library on steroids, and that's probably a really good way of describing it. The intent with it is that it reflects the colours and the form of the Port Hills and the native Harakeke Flats that is native to the area. The light changes depending on the time of day and the weather conditions, and I feel like every time I come past here, the thing looks different, and it just looks beautiful in every condition."
When and where?
Location: 60 Cathedral Square, corner of Gloucester and Colombo Streets.

Opening hours: 8am – 8pm weekdays, 10am – 5pm Saturday & Sunday.
This wonderful library is located just a few minutes walk from Hotel115. Based in the center of Christchurch City, our facilities are perfectly positioned to make the most of your next trip to the Garden City. Book direct to get the best available price, free late checkout and complimentary spa, sauna and pool access.
If you would like to get a better idea of what the new library looks like, check out this photo gallery, which contains over 3000 stunning images!
December 7, 2018 by Your friends at Hotel 115