Reading Time:
3
minutes
Christchurch Central has been bustling with construction, development, and change for quite some time now. Based out of our central city location, we have been watching excitedly as new buildings emerge from the post-quake rubble. As a result, people are returning to the city center to enjoy the amenities and attractions on offer.
The latest two buildings to open have been Tūranga (our public library) and the new Hoyts cinema complex. Located opposite the central bus interchange, this 3 storey, 50 million dollar development is poised to attract more visitors and ultimately provide an excellent entertainment experience for people living in and visiting Christchurch.
"This is going to be a fabulous attraction, it will be very good for the city and will really activate that part of town."
This modern building is replacing 2 Hoyts cinemas that previously operated in the city. Doors opened to the public on Thursday 27th September 2018.
With the prominence of Netflix and ubiquity of movie streaming services, cinemas have needed to reinvent their offerings in order to stay relevant. Hoyts understand this challenge in great detail and have spared no expense in making this flagship location the best cinema in Christchurch.
What makes this cinema unique?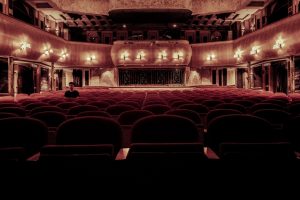 Going to the movies is an experience that entails more than simply watching a video. With more than 900 faux-leather recliner seats, over 13 food vendors in the dining area, automated ticketing machines and leading-edge architecture, this building has been constructed from the ground up with an eye towards impressing customers.
Otherwise known as EntX, this complex features two extra large 'xtremescreens' with Dolby Atmos surround sound – the best cinematic sound on offer in New Zealand.
Two of the cinemas on the top floor are catered to the more discerning of tastes. These 'Lux' rooms include USB ports for charging your phone and a 'call' button for in-movie service. Need more snacks or a top up of your wine? Not to worry, just press the button and relax while your refreshments are served. The gourmet menus in Lux cinemas feature a selection of easy-to-eat food designed by celebrity chef Manu Fieldel.
"Hoyts design manager Tim Bradbury said the space was designed to immediately immerse visitors into the world of cinematography. He said Lux was aimed at couples and offered a 'more private, sophisticated experience'."
Comfort, cuisine and cinematic indulgence – this place has it all!
Modern entertainment in a state-of-the-art purpose built facility
Located at 617 Colombo Street, Christchurch Central, the land beneath this structure was purchased from the Crown rebuild agency, Ōtākaro. Ōtākaro was set up following the devastating 2011 earthquakes to accelerate major rebuild projects throughout the city and help get Christchurch back on its feet.
Calder Stewart constructed the cinema complex, and lease the building back to Hoyts as the main tenant. Concrete has been strategically used throughout the building for acoustic reasons.
"The cinemas have been built as individual concrete boxes, with a steel structure holding the dining precinct and atrium and a seismic joint between the two halves. The facade was made in pieces off site and bolted on."
EntX will be Hoyts' 3rd cinema in Christchurch and 11th in New Zealand. As a result, there are now 39 cinema screens in Christchurch:
There's plenty to do here in Christchurch!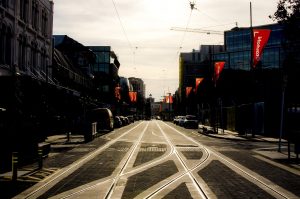 With lots of exciting developments and new buildings reopening, there's something for everyone here in Christchurch. Whether you're a coffee connisseur, a shopaholic or just want to spend a romantic day with your better half, Christchurch is the place to be.
Our weekend markets feature local crafts and cuisine, there are a range of places to enjoy high tea and the nightlife includes places for all tastes.
If you're thinking about visiting Christchurch Central, then look no further – Hotel115 is conveniently located to most central attractions and offers an array of benefits when booking direct (spa, pool, gym and sauna access, late checkout and more)!
December 10, 2018 by Your friends at Hotel 115